Welcome to Sebring!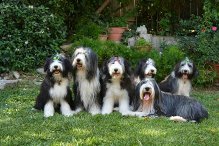 Sebring Bearded Collies is definitely a family affair!  We are a mother and daughter team, Margie Haarsager & Kirsten Andreassend, which came to be when we saw our first Bearded Collie in 1977……and that is how the story began.
We have had many Champions, ones we bred and ones we owned that were bred by great kennels.  It's always been important to us to keep to the Standard and maintain the Bearded Collie in its natural, wonderful state that we originally fell in love with.
Together we plan the breeding, raising, training and showing of our puppies.  We know we need to only show and breed the best we can.  Not just for the show ring, but to make amazing companions.  We are breeder/owner/handlers and are proud of our accomplishments.
The Bearded Collie is a versatile breed and we encourage owners to "try it all"!  We also love to train our dogs for Obedience, Rally, Agility and Herding.  That is not all they can do.  They also excel in dancing, tracking and nosework.  The Beardie is such a smart dog.  They catch on to and enjoy everything you ask them to do.  Keeping their life interesting for them keeps it interesting for us.
We enjoy finding wonderful homes for our puppies and have had met some lifelong friends through this endeavor.  We find it gratifying to mentor "newbies" and love to see them advance along.  Going to the shows is usually a social event for us.  We like to win but visiting with our friends is just as important.